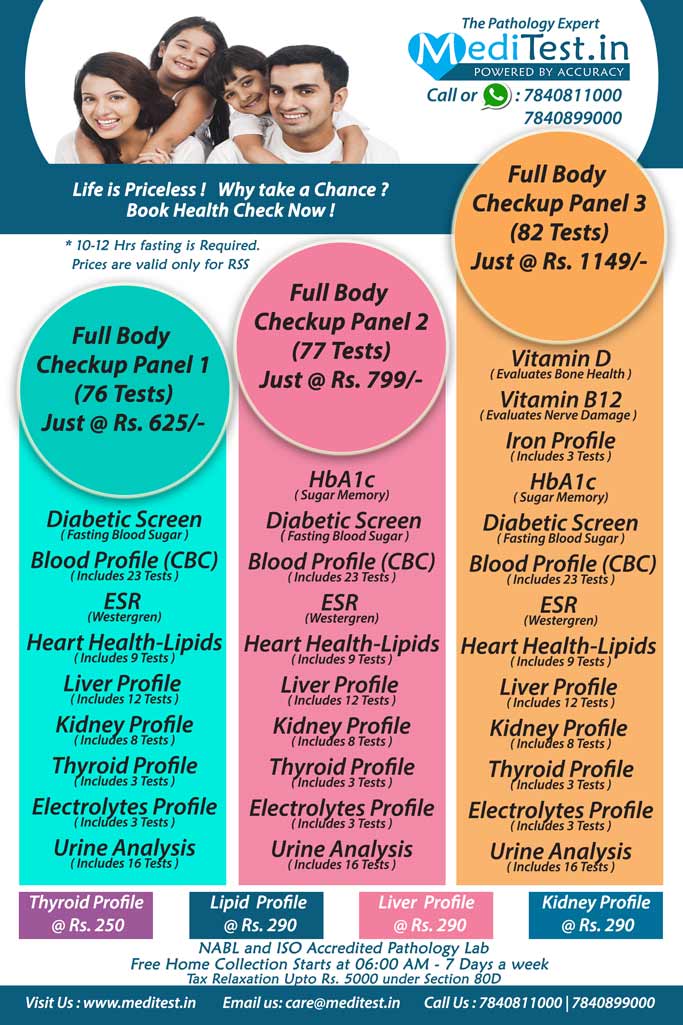 Full Body Checkup Panel 1
Full Body Checkup Panel 2
Full Body Checkup Panel 3
Free DoorStep Sample Collection
Same Day Reports for Routine Tests
Note: Expenses on Preventive healthcare checkup are eligible for a maximum tax deduction of up to Rs. 5000/- under section 80D in a year if done either for self or spouse,dependent children or parent(s).
1) Do not eat or drink anything except water for a minimum of 10-12 hours prior to Sample collection for Blood test i.e No Tea/Coffee/Juice/Biscuits etc.
2) Please do not consume your morning dose of insulin or tablets (if any) prior to Sample collection.
3) Please do not consume alcohol/nicotine 24 hours prior to health Check.
4) Specifically for Ladies:-
if you are menstruating on the scheduled day of your health checkup , kindly inform us.
Since you will not be able to do your urine and stool tests as the presence of blood would produce inaccurate results.
Our other health packages are Full Body Checkup panel 3
Full Body Checkup panel 3